Springfield Castle, Dromcollogher, Co. Limerick, Ireland
March 28 - April 4, 2023
Limited to 13 Artist
All Mediums & Abilities Welcome!
Immerse yourself for one week in a setting brimming with history and creativity!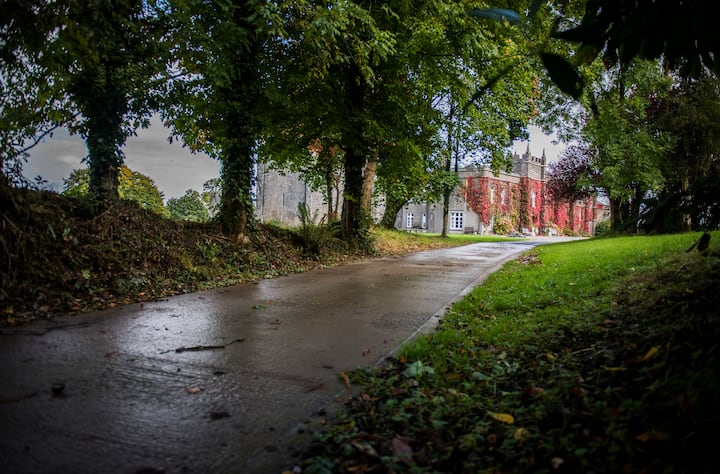 These retreats are not based on your portfolio... they exist to invite artists of all mediums to experience time and space away from their daily routines, environments, and obligations. They allow creative time to reflect, make art, relax, and explore a new area with new inspirations. Immersion into an area other than your home can be healing and inspiring. Something magical happens when artists explore their creativity within a new community! There are no mandatory scheduled events during these retreats, but there will be mini-classes if you would like to try something new! Watercolor, sketching, mosaics, and more!
The week is all yours to do what you wish. These retreats are meant to give YOU time to reconnect with your creative self, and have the freedom to explore your own medium in a new environment.
Springfield Castle is on a 200 acre estate, and has forest walks, bicycles, tennis court, pool table, courtyard with gazebo, bonfire pit, gardens, and so much more. Watch a video about the Castle's history here! The estate is in the heart of Limerick County, which is a perfect location for exploring so much of Ireland.
It is advised that you rent a car for this retreat! It is a 1.5 hour drive from Shannon Airport. It's a 3 mile walk into the town of Dromcollogher from the estate.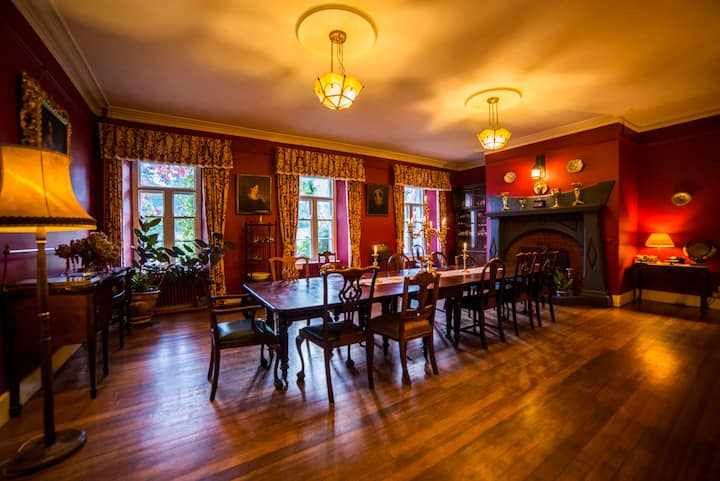 Throughout your stay, you'll have a chance to participate in mini-classes at the castle. All classes are optional, but are great ways to play with new mediums or learn something new! The itinerary will evolve as the retreat gets closer, but right now:

Mosaic Jewelry with Kirsten Kramer ($50 fee payable to Kirsten)
Private bus tour of the Dingle Peninsula
Introduction to watercolors with Mandy Stultz (included/no fee)
Mosaic findings class with Frances Green ($50 fee payable to Frances)
Falconry Class on the estate (included/no fee)
An evening of Irish Music & Dance in the tower-house (included/no fee)
Traditional Wet-Felting Class with Amanda Edwards (included/no fee)

Coffee, Tea, Fruit, and light snacks will be available throughout your stay. There is a kitchen for you to make meals if you would like!
There will be additional opportunities to take local art classes, or even learn the ancient arts of archery and falconry! In the months leading up to the retreats, you will be sent an itinerary with optional add-ons to your retreat.
The Estate!

Things to note: This is a beautiful old castle dating back to the 1500s. As such, this retreat is not suitable for art that takes up a lot of space, or is abundantly messy. There are so many places to create within the castle, but there is no designated art studio. Please bring what you need in order to protect the castle, and the castle's antiques, from any damage, like a drop cloth. There are two dining rooms at the castle. One will need to be open for people wanting to sit and eat, however the other will be used to teach mini-classes during the week. When the 2nd dining area is not in use (classes will be two hours each, and they will happen 4 days of the week long retreat), you can feel free to use that area for creating! - however, you will need to be able to move your work from the table when a class is scheduled.



There is a kitchen that you can use to make meals during the week! Please make sure to clean up after yourself, and remember that you will be sharing the space with 12 other artists!




I'm happy to tell you that a limited number of Spouses/Partners/Friends may come on this retreat! Fee for spouses/partners is an additional $300 for the week.
Spaces left for partners/spouses: 0
Spouses/Partners will be able to take art classes offered through the week for an additional fee per class taken ($50 -$100 per class if they chose to participate). The castle is large enough to absolutely handle a few extra people... but please let your plus-one know that this is a creative retreat, where most people have travelled to solo, and that it would be a great idea for them to bring along something creative that they have wished for the time to explore!

Cost: The price you see next to each room is your cost for the week. Transportation to and from the castle is your

responsibility, but I can offer advice if needed! The costs are kept as low as possible to make sure that as many people as possible get to experience the magic that happens when you give yourself a week in an inspirational location to focus on your art & creative spirit.
Leisure facilities at the castle include a full sized snooker/billiard table, table tennis, a hard court tennis court, boules, and hot tub, in addition to the gardens, patios, and woodland walks.... in addition to a castle full of history, antiques, fireplaces, and inspiration!



In the event of cancellation due to changes in Covid regulations, I will re-schedule the retreat, or you will be given a full refund. I cannot refund travel expenses and advise you to take out private insurance.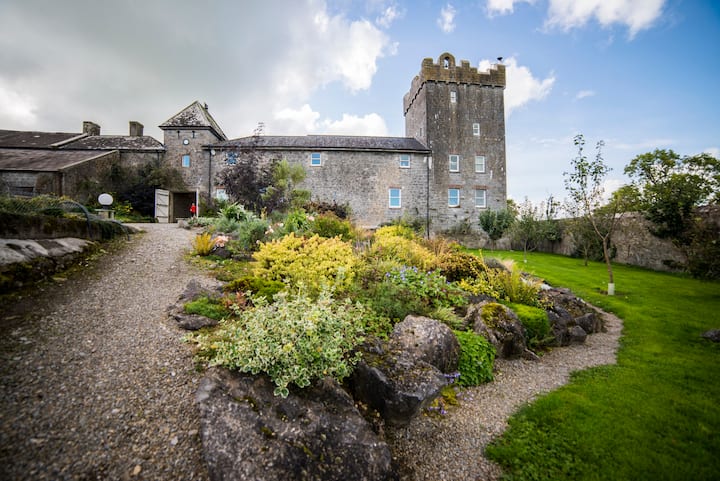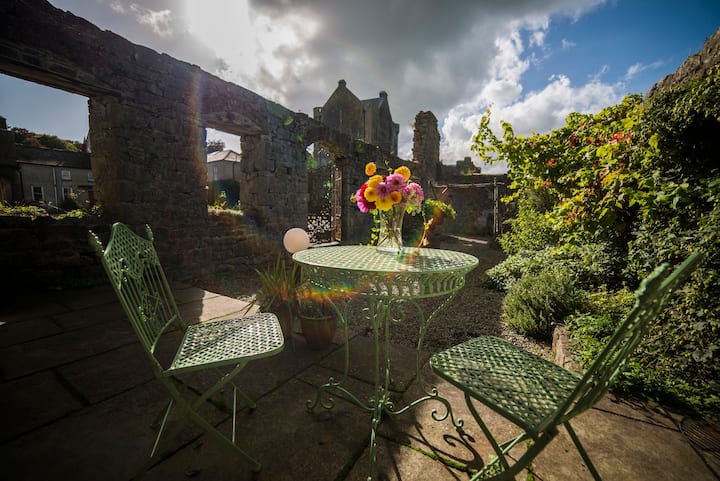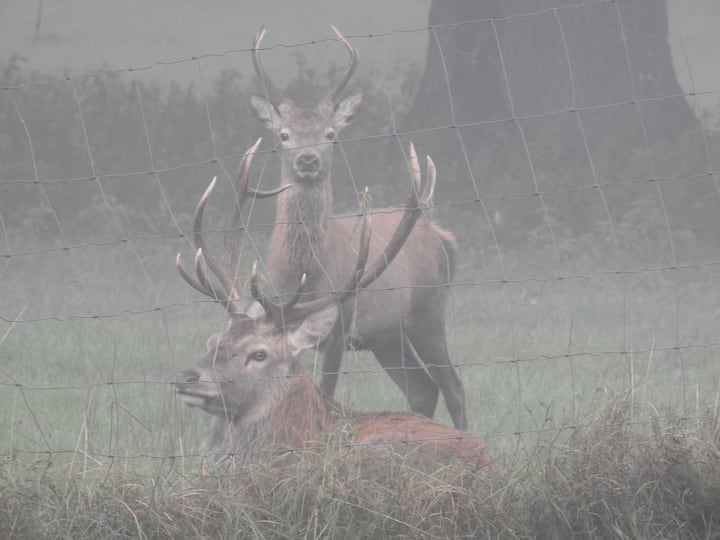 Room Selection
When you complete your application, please list your top 3 room choices. As rooms are reserved, it will be noted on this page. Artists must each get their own rooms, unless you are staying in the Clock Suite. If artists doubled up in rooms, the retreat would get very crowded, very quickly. :)
RESERVED
Bedroom 1, The Baroness Room. En-suite, with handheld shower. $1450
*****

RESERVED Bedroom 2, The Barons Room. En-suite, with walk-in shower. $1450

*****


RESERVED Bedroom 3, The Garden Room, for one person. En-suite, with walk-in shower, on the first floor. $1100

*****
RESERVED
Bedroom 4, The Green Room.

En-suite, with walk-in shower. $1450
*****


RESERVED Bedroom 5, The Oak Room. For one Person. Shared bathroom with the Yellow Room. $1100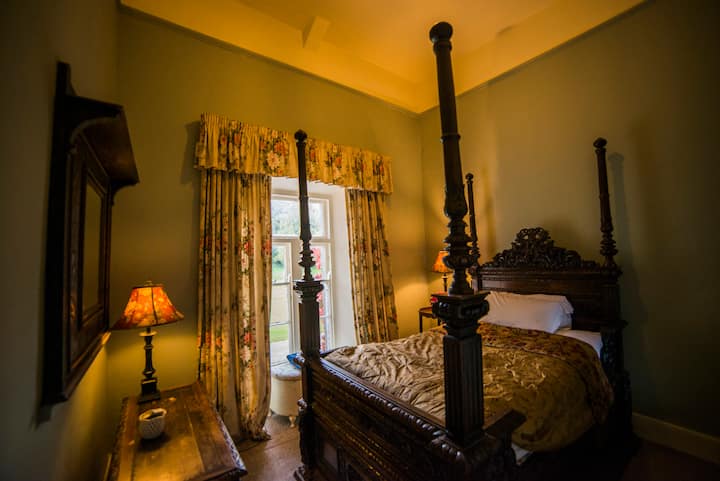 *****

RESERVED
Bedroom 6, The Grey Room. Shower and bathroom closet in room. $1450
*****
RESERVED
Bedroom 7, The Yellow Room. Shared Bathroom with the Oak Room. $1100
*****

RESERVED

Bedroom 8, The Arch Room. Private Bathroom with tub & handheld shower $1450

The following rooms are in the tower,
and are more modern than the rooms above. The tower is entered through an archway to an interior courtyard with fountain and walls dating back to Norman times! The tower has its own kitchen, living, and dining room, however the entire property will be shared by everyone on the retreat! So, no matter where in the castle you are staying, the entire property is yours to use! Classes will be held in the East Tower Dining Room.
Downstairs in the East Tower there is an amazing basement room with stone walls built on to the foundation rocks hewn from the limestone hill on which the castle stands. This space has a pub atmosphere, and a solid oak medieval style castle door leading to a private garden.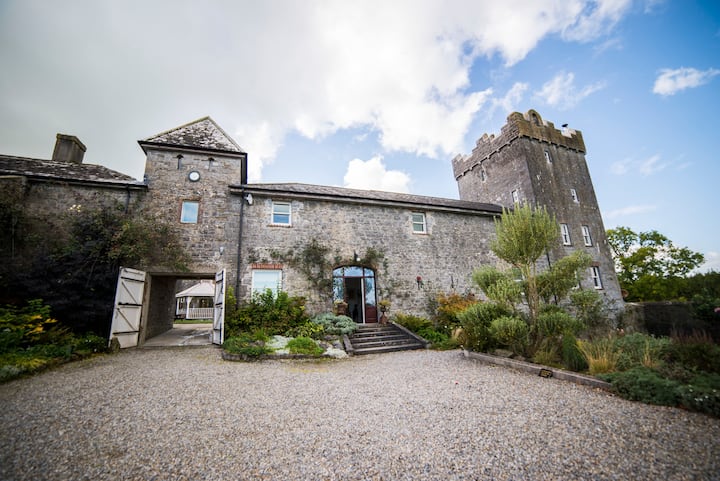 *****


RESERVED Bedroom 9, The Clock Suite. This room is a shared suite. Only rentable to artists, no spouses or partners. En-suite with tub & walk-in shower. There is a wall

separating

the double bed & the two singles. Only one single bed will be reserved, and the other will remain empty.
$1000 per person, regardless of bed choice.

*****

RESERVED
Bedroom 10, The Tower Room One. En-suite with tub. Large balcony overlooking the walled gardens and fountain. $1550
*****


RESERVED

Bedroom 11, The Tower Room Two. En-suite with tub. $1450
*****


RESERVED

Bedroom 12, The Tower Room Three. Top floor (3rd floor) of the tower. Skylights. En-suite with walk-in shower. Looks out over the woodland & courtyard. $1450
Getting to Springfield Castle
The closest airport is Shannon Airport. Renting a car is advised.
Flying into Dublin, you can take the train to Limerick and on to Charleville. From there, a taxi can be arranged for the 35 minute drive to Springfield Castle.
The History
The story of Springfield Castle is associated with the patronage of poets. The legacy of storytelling and the arts in the castle and tower house is the perfect setting to ignite our creativity.
Steeped in history, it is the ancestral home of Lord and Lady Muskerry, whose motto Forti et fideli nihil dificile which means
"nothing is difficult to the strong and faithful" underlies over 700 years of family history.
The earliest castle at Gort na Tiobrad, the Irish name for Springfield Castle, is reputed to date from 1280 when one of the Fitzgeralds, a junior member of the Earl of Desmond's family, married a lady of the O Coilleains, who were the Gaelic Lords of Claonghlais. He took the title Lord of Claonghlais and subsequently built a castle at Springfield. The Tower House was built around 1480.This was the beginning of a long association of the Fitzgeralds with the area. They were patrons to Irish poets and musicians. As you enter the impressive gateway to Springfield Castle a plaque on the wall commemorates Daithi O'Bruadair, a classical Irish poet of the seventeenth century who lived at the castle with his patrons, the Fitzgerald family, recording their lives (and general events). He described Springfield Castle,as "a mansion abounding in poetry, prizes and people."